2018 a&sSecurity 50
Since 2003, a&s Security 50 has been ranking the top fifty companies in the security industry, which either have the largest market share in the global market, or the highest product shipment to its global partners. a&s Security 50 aims to demonstrate the ups and downs of the security industry throughout diverse market variables.
Scroll down to see full ranking!
Quick View of 2018 a&s Security 50
Highest Revenue Growth
Compared to the previous ranking from past years, the new-comers DSSL from Russia and Raysharp from China are ranked the top two companies with highest yearly revenue growth. Raysharp, particularly, is the only company in the 2018 a&s Security 50 that owns over fifty percent of revenue growth. From the ranking last year, four companies including CP Plus, Dahua, Hikvision, and Tiandy have remained their positions in the top ten revenue growth, showing the continuous strength in the global security market.
Highest Gross Margin
In the 2017 fiscal year, three companies have their gross margin exceed fifty percent, showing a high efficiency on the way they generate profit. IndigoVision leads this ranking with a 53.8% gross margin. And Axis Communications (51.8%) slightly exceeds Avigilon (51.6%) on the second place with a mere 0.2 percent difference.
Highest Net Profit
Video surveillance camera provider Dahua Technology tops the highest net profit in the 2017 fiscal year with 338.1 million US dollar. The net profit of other companies in this list are below 100 million US dollar. Axis communications, whose offerings include integrated security systems, having 82.7 million USD net profit in 2017, is the second place. Also ranked the top five are Fermax, Nedap, and Avigilon.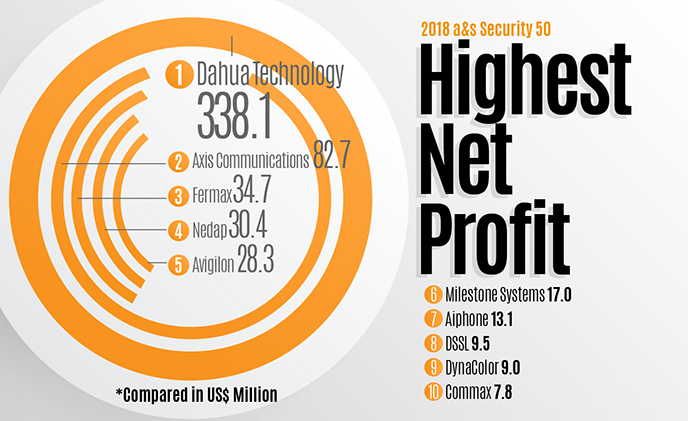 Full Ranking
a&s ranks global manufacturers solely by product sales revenue, gross profit, profit margin, and net profit, which were listed in their public financial reports for the 2017 fiscal year. Participants range from exclusive manufacturers to end-to-end solution providers. Again, we urge readers not to focus on the ranking of the participants, but to further explore the underlying causes for their success.
About a&s Security 50
Eligibility of a&s Security 50 Candidates for 2018
Electronic security equipment and software systems providers, including video surveillance, access control, intrusion detection, and multiple product segments
Security companies or pure manufacturers with their own products, systems, brands, or solutions
Publicly-listed companies only
Notes: However, every year, a&s also includes a very small portion of privately-owned, multinational companies who are willing to share their certified annual reports. Their qualification will be carefully verified by the a&s editorial team, in terms of their brand awareness and market share in the international market.
Ability to provide FY 2017 and FY 2016 and first half of 2018 financial statements, audited/endorsed by certified accountant or accounting firm
Distributors, systems integrators, resellers, dealers, installers, guard service providers, information security, and fire safety companies and other related revenues are excluded
Notes
a&s bears no responsibility for the financial information provided by any individual company. For fair comparisons, non-US currencies were converted using midmarket exchange rates from yearly average currency exchange rates announced by Internal Revenue Service (IRS), the US tax collection agency and administers the Internal Revenue Code enacted by Congress. This is an unbiased list based on the willingness of participants to share their sales performance.