With advantages such as flexibility on distance, installation, and cost-saving, wireless transmission has been a perfect fit for outdoor locations that seem to be impossible for cabling.

"In general, most of the projects that require to be equipped with wireless transmission facing similar difficulties," said Kris Yang, Key Account Manager at ALCON Technology. "Distance and the troubles of cabling are on the top of the list. If the cabling distance is above 100 meters, there is a great chance that the cable being damaged by wild animals, crashed over by vehicles, just to name a few."

Any data that can be output through switch can all be delivered via wireless transmission device. "ALCON's wireless transmission solution can help our customer to deliver any IP data. That is to say, not only for the video surveillance, voice over IP (VoIP) gateway and any devices come with RJ45 Protocol can apply wireless transmission solution as well," explained Cathy Lee, Account Manager at ALCON Technology.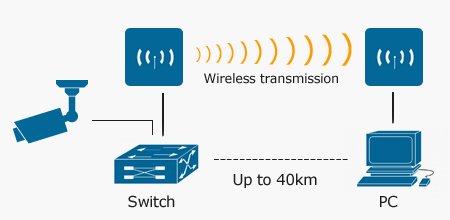 Other than traffic application, wireless transmission system is popular among SMB sector. "Many of the end users in the commercial sector require wireless transmission as well. Especially when there are more than one company buildings scattered on different islands, or located in desert places under extreme weather or harsh conditions," Yang pointed out. "The most prominent benefit of adopting wireless transmission solution is that with advanced system design, wireless device is not only able to conquer any environmental difficulties but provide real-time and high quality images."

On the top of it, let's do not forget the mobile and flexible nature of wireless systems. ALCON provides high quality data transmission solution from a distance of couple meters to 40km. For the cases that temporarily require data transmission and Wi-Fi, for instance, concert and outdoor exhibitions, wireless transmission is absolutely the best choice!